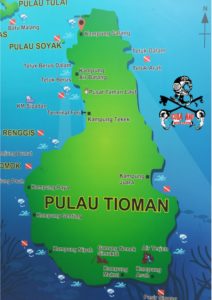 Tioman Island Malaysia is the largest of the 64 volcanic islands in Malaysia and situated in the east coast of Malaysia. The island was selected as one of the beautiful islands in the world by Time Magazine in 1970's.
Tioman Island Malaysia is best known for being a best diving destination in Malaysia.
The best season to visit Tioman Island is from March to October. You can find resorts of different budgets in the island for accommodation. The island will become almost desolated from October end to March beginning. Most of the resorts will be closed November to February.
As Mersing is the gateway to reach Tioman Island, you have to first go to Mersing Jetty or Tanjung Gemok Jetty from Kuala Lumpur. From any of these jetties, you can take a ferry service to Tioman Island. Ferry service is the only option to reach Tioman from Mersing or Tanjung Gemok. The most common options to reach both jetties from Kuala Lumpur are to take a car or bus.
DIVESITES:
Tiger Reef: Tiger reef is definitely one of the best dive sites of Tioman island and is a highlight! It is an underwater pinnacle starting around 10 m and going down to 22 m deep. The current can sometimes become quite strong so you need to have your open water advanced to dive this site. There are many boulders covered with hard and soft corals as well as barrel sponges. If you are very lucky and during the right season you can even see a whale shark! Prepare your camera 

Magician Rock: It is an underwater pinnacle starting at 8 m deep. The hard and soft coral is fantastic and untouched. As it is in the open sea, there is often a strong current. You can see all kind of fishes on this pinnacle and even whale shark if you are lucky enough! There are also many friendly turtles.
Teluk Kador: Teluk Kador dive site is a superb reef with splendid coral and stunning marine life! This is one of the best places to dive in Tioman Island.  You can see turtles, blacktip sharks as well as many moray eels and lobsters! If there is current, it can make a wonderful drift dive. The sandy bottom is around 22 m deep and it is a good site for beginners and advanced divers. The end of the dive is on the shallow coral garden, perfect for underwater photography with very good sunlight.
Bahara Rocks: Bahara Rocks dive site is located on the southwest corner of Pulau Tioman. This is a nice wall with many pelagic fishes and a great variety of reef species. Bahara rocks is sometimes classified as a drift dive. This location is a Reef.
Soyak Island: Soyak Island is very close to Tioman Island. The dive site is very easy and perfect for beginners or a night dive. The current varies from none to medium and the water is usually very clear. The reef life is really spectacular with many different species of fishes such as barracudas, bumphead parrot fish and lionfish. There also some turtles and a great variety of nudibranch. This is a very good dive site for underwater macro photography! It is also a great place for snorkelling in Tioman.
Soyak Wreck: Soyak Wreck dive site is composed of two thai fishing boats lying between 22 m and 30 meters down into the sea. You need to have your advanced open water to dive these two wrecks. The current can be quite strong sometimes. The wrecks are covered by nice hard and soft corals and is full of fishes with even a nearly 2 m long giant grouper being spotted!
Chebeh Island: The Island of Chebeh has several dive sites (North and South) and the choice depends mainly on the current. Under the surface the reef is composed by enormous volcanic rocks which creates many swimthroughs and tunnels. There is also a cave at 21 m deep full of fishes. During the right season (April and October), if you are lucky you can see Manta rays and even the rare and famous whale shark! If there is some current, you can also see many pelagic fishes and reef sharks.
Malang Rock: Malang Rock is a very popular dive site in Tioman. It can get crowded during the weekends so it is better not to dive there at these times. The site is made up of many rocks with good and healthy hard corals. It is quite shallow so it is a perfect dive site for beginners of for a late afternoon dive. The variety of fish life is amazing and if there is current it is possible to also see pelagic fishes passing by.
Fan Canyon: Fan Canyon dive site is composed of several huge rocks covered by magnificent hard and soft coral. Between two of the rocks there is a narrow canyon full of huge sea fans. It is better not to dive into the canyon to not damage this very fragile coral. With a maximum depth of 30 m and an average depth of 22 m, this dive site suits better for advanced divers. On the rocks you can many find many nudibranch and flat worm of many different species.
Labas Island: Pulau Labas has two dive sites depending on the conditions. This is a really nice reef with many caverns and swimthroughs full of fishes. This dive is very easy and perfect for beginners as there is usually no current and the reef is quite shallow. You can see blacktip sharks as well as many Titan trigger fish and moray eels.